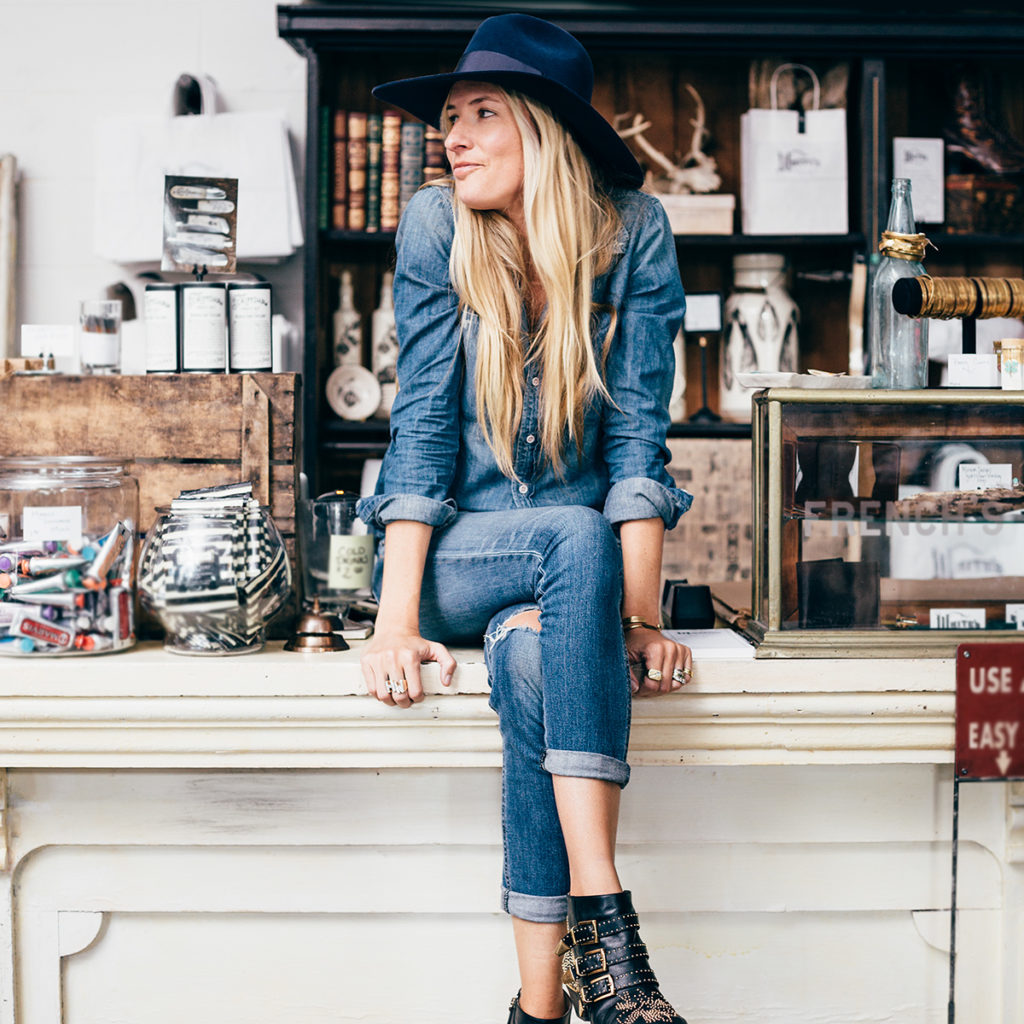 Dr. Seuss once said, "You never know the value of a moment until it becomes a memory." What stunning and poignant words. I'm trying desperately to catch each one and hold on to it just long enough for an imprint to stay behind. And to grasp all of the beautiful and the wretched like old spring break polaroids in my head. There's been so much life swirling inside this living of mine, and all I've been begging of myself is to take the time to write it down and remember. For too long. So here goes!
Some long sentiments, some short. Some light, some dark. Some weightless as a feather and some heavy as a wrecking ball. I'd like to preserve it all in this form. And look back on it. And show these babies. And tell a few stories. Maybe my mama will be the only reader, but my hope is that you can find something here that stirs a little something in your head and your heart, with a splash of solace and a dollop of joy on the side…
Thank you for being here!
Holly Williams is an acclaimed  singer/songwriter, retail entrepreneur, serial house renovator, lover of the South, and her favorite title "Mama" . She and her artist/musician husband, Chris Coleman (check out his beautiful work HERE), share four children—Stella June (8), Lillie Mae (7), Arlo (5) and brand new baby girl Georgia Grace. Holly has released three critically-acclaimed albums, and also owns two of Nashville's best retail spots: H. Audrey and White's Mercantile (with the latter boasting 5 locations, including 4 in Tennessee!).
Both stores show off Holly's "exquisite taste," according to gal-pal and shopper Gwyneth Paltrow. One, H.Audrey, is arguably Nashville's most beloved women's clothing boutique, and the other, White's Mercantile, is a completely curated shop stocked with all of the favorites that Holly has found while spending much of her life on the highway, playing music to adoring fans. She describes White's as a "general store for the modern-day tastemaker." She may be from a famous family–country legend Hank Williams Jr. is her father–but don't expect rhinestones and cowboy hats from Holly. Her style embodies a modern-day chic simplicity fitted for shoppers around the globe.
"
Coming from a family of so many creative talents is a reminder for me to always stay true to my artistic vision – Whether that comes in the form of a new album, a retail venture, an old house renovation, or a fresh take on really good roasted chicken…
Holly's retail beginnings were never planned—music was always her primary focus—but in March 2006, Holly and her sister Hilary were in a serious car accident. Holly was left uncertain if she would ever be able to play guitar again, and Hilary faced more than 30 surgeries throughout the next years of her life. It's truly a miracle they both survived.
"I couldn't leave Nashville and had to resort to a backup plan, in case I wasn't able to tour again," Holly says. Prior to the accident, the now-40-year-old musician had toured the United States and Europe extensively, discovering and falling in love with many different designers along the way. The life-changing event led Holly to create H. Audrey (aptly named after her first initial and middle name Audrey, which she inherited from her paternal grandmother). The doors to the shop opened in the fall of 2007 and the followers haven't looked back since—from Taylor Swift to Reese Witherspoon and Robert Plant, H. Audrey has garnered quite the cult following!
Naturally, Holly soon began itching to create another retail project, and the seeds of her next venture, White's Mercantile, took root. But the path from there was anything but straight, and it wasn't until Holly drove by a local gas station that was about to be demolished that the idea for White's came sharply into focus. From that moment on, her vision was clear and in December of 2013, she introduced the world to a modern-day mercantile inspired by the general stores of the South that she had loved so dearly as a little girl. Naturally, that first location was inside the gas station she saved and restored.
This go round, Holly named the store after her maternal grandparents, Warren and June White, and drew on memories of the mercantile that her great-grandfather once owned in the small town of Mer Rouge, Louisiana. Holly always dreamed of creating a one-stop shop where she could find everything she needed and loved in one place, and White's Mercantile is a tribute to that gone-era retail tradition.
"I believe in quality over quantity in everything," Holly says. "I believe in investing in things that you will love and cherish for years to come, instead of mindlessly dropping money on things that will not keep relevant through the seasons, times, and changes in your life."
This philosophy runs through the heart of all of her stores. And it clearly translates to the people who visit—whether you're a first-timer popping in out of curiosity, or a long-time shopper checking out the latest goods.
USA Today writer Stacie Standifer summed the feeling up pretty well with this observation: "Time is our most valuable commodity, and [Holly] has created a locale that not only saves precious moments of 'in and out,' but [also offers] a concept that will likely bring national attention to the smart, trendy 12 South neighborhood where the flagship is located. Her impeccable, modern taste is always on point."
"
He not busy being born is bust dying – Bob Dylan. This is my motto. I thrive off of having my hands in multiple creative projects and staying busy. It keeps me finding Inspiration on a daily basis, and makes the still moments with family that much more special.
Southern Living, Garden & Gun, Country Living, and Architectural Digest are just a few of the folks who have covered her timeless renovations.
In her spare time—double "Ha!"—Holly is continuously writing for her 4th record, loving on her babies, and trying to make sure authenticity remains at the heart of all of her passions. Explore the stories and sentiments on the journal page here, and follow @hollyaudreywilliams to see it all come to life!