SOUTHERN LIVING'S
Biscuits and Jam Podcast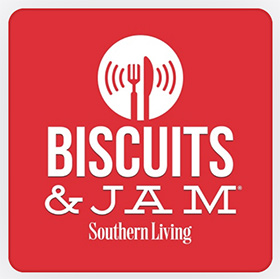 Singer And Songwriter Holly Williams Shares Her Love For Old Homes
By Sid Evans Published on Dec. 6, 2022
Holly Williams is a singer-songwriter, home renovator, and retail entrepreneur. As the granddaughter of Hank Williams and the daughter of Hank Williams Jr. you might say Holly has music in her blood, and she's certainly carried on the family tradition, releasing three albums, playing at the Grand Ole Opry, and headlining shows around the globe. On this episode, we'll chat about some of her favorite memories of growing up as a Williams, her obsession with buying and renovating old houses, and how it feels to land in her grandfather's hometown of Montgomery, Alabama. Plus, she talks about the time Fiona Prine called her and asked her to open for John Prine at the Ryman, how she found the perfect farmhouse on Craigslist, and her hopes for the Hank Williams Museum.
What Holly Williams Talks About On This Episode:
Playing at the Grand Ole Opry
Growing up in a musical family
Her obsession with old houses
Finding the perfect farmhouse on Craigslist
Moving to Montgomery, Alabama
Her mother's cooking
"
Southern to me, whether it's a big family or small family, we love things passed down and things inherited and to feel like we're kind of continuing the story of our families. If we' we're lucky enough to have a great family and continuing traditions, then there's a story to everything.
– Holly Williams
Usually if we buy an old home, I love to learn everything I can about the family that lived here, who loved here, who died here. What are the stories? Even just walking into a random home where I don't know the people, I just love to imagine what happened here, what time period it was, and were there children here. Just all the questions. I think that old homes keep my creative lights kind of lit up, from a songwriting standpoint, honestly.
About Biscuits and Jam
In the South, talking about food is personal. It's a way of sharing your history, your family, your culture, and yourself. Each week Sid Evans, editor in chief of Southern Living, sits down with celebrity musicians to hear stories of how they grew up, what inspired them, and how they've been shaped by Southern culture. Sid takes us back to some of their most cherished memories and traditions, the family meals they still think about, and their favorite places to eat on the road. Download and listen to this episode of Biscuits & Jam with Holly Williams on Apple Podcasts, Spotify, Amazon Music, or everywhere podcasts are available.