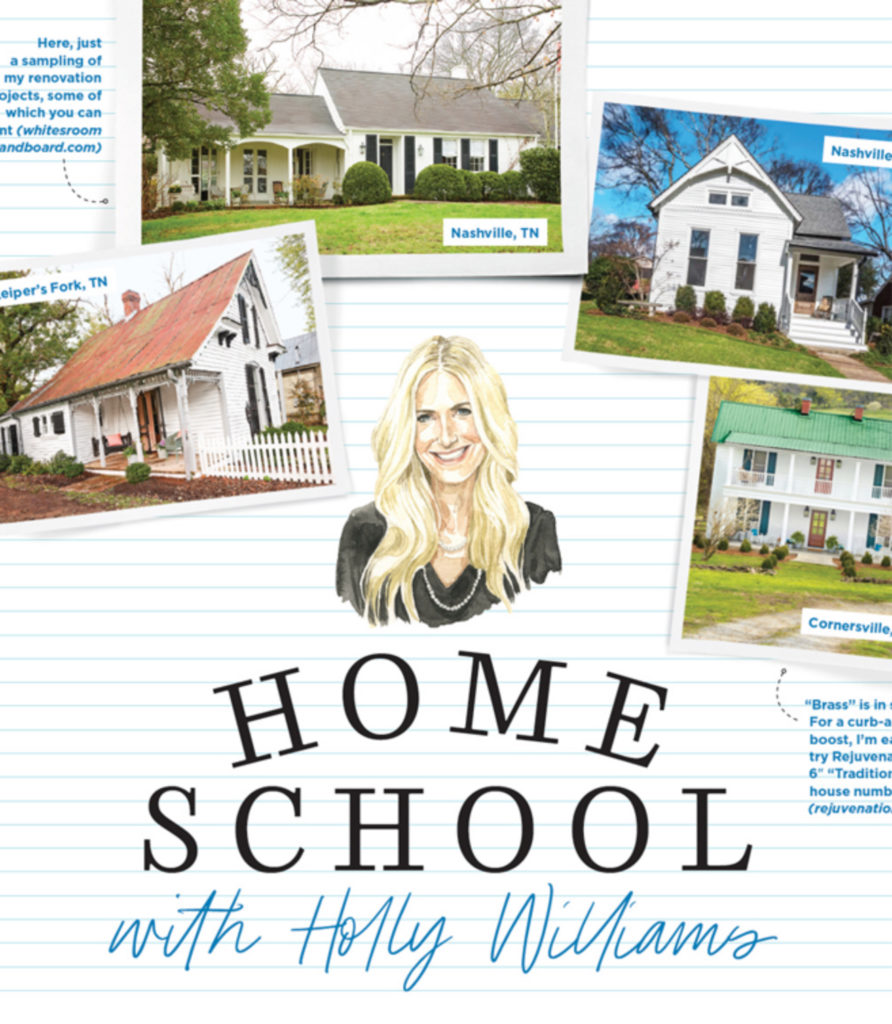 produced by JENNIFER KOPF
The Country Living contributor and old-house enthusiast opens up her little blue book of renovation wisdom to help you ace your next reno with flying colors (blush pink and black, to be exact).
Lesson 1: Doors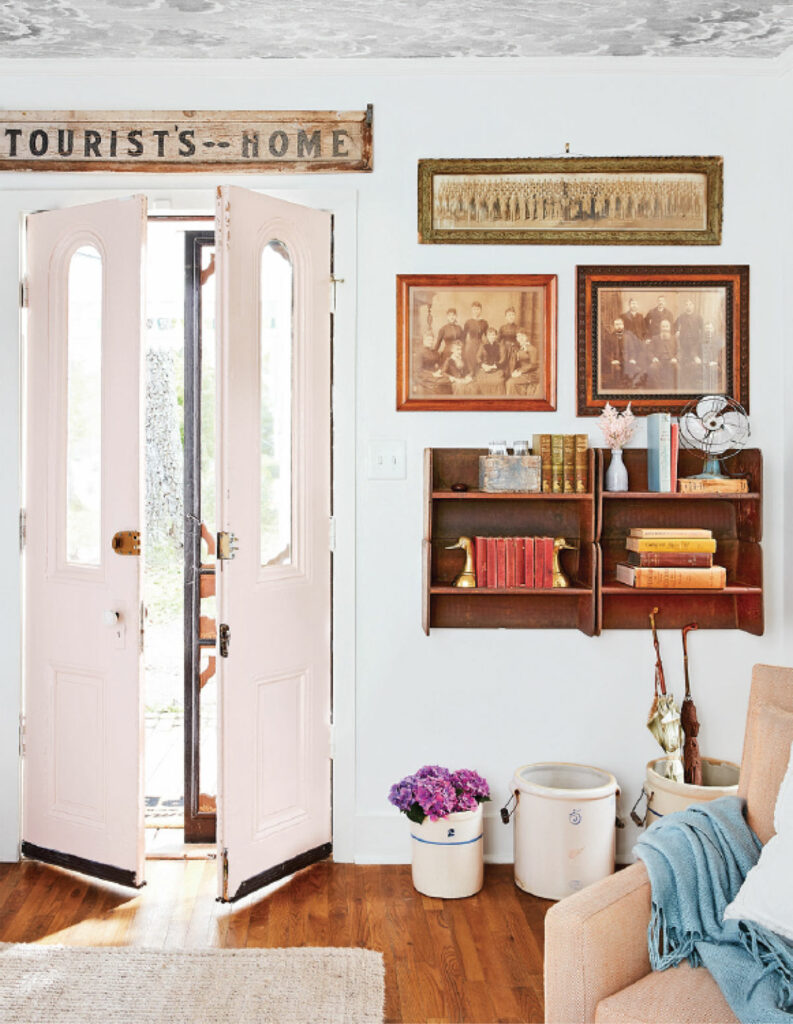 First: Make sure you have a great handyman if you insist on antique doors. And remember: You can't go wrong with French doors in a high-gloss gray or black. They look fabulous with white walls!
on preservation:
I try to save the original front door unless it's impossible to keep shut (l've made this ­mistake). And I love old interior doors through­out. Many times people have replaced original doors with new, cheap ones and I always head to Nashville's Preservation Station (thepreservationstation.com) for antique replacements.
on exterior doors:
Buy Floors Direct has the look without the price. Cambridge Estates's engineered hard­wood is stunning My general rule is to never remove old paint unless it is straight up ugly. Otherwise, for the front door, I love Intimate White by Sherwin-Williams (it's really a light blush) or Blue Hydrangea by Benjamin Moore. [See more of Holly's paint picks below].
on interior doors:
Always paint all interior doors either Alabaster or Tricorn Black by Sherwin-Williams.
on hardware:
Go with salvage! Preservation Station has great online offerings. And Southern Accents (sa7969.com) is in my birthplace of Cullman, AL, and is amazing!
Lesson 2: Walls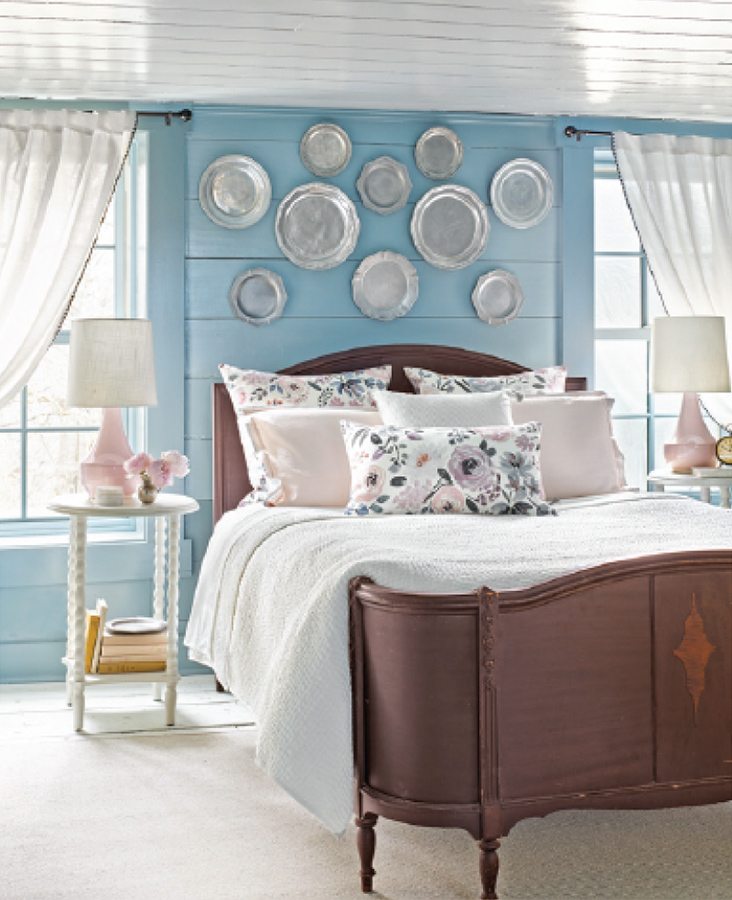 shiplap
If I'm doing one accent wall, I love five-inch white paint-grade pine boards. For an entire room, I'll go with seven-inch boards, which makes the room feel really big.
beadboard
I use one-by-six-inch tongue-and­-groove whitewood boards (look for Eastern pine boards; homedepot.com). They show all the knots and are also killer for adding character to a ceiling. You can use a whitewash stain instead of paint, although I've also painted them black in a cabin for a modern and masculine effect.
Lesson 3: Floors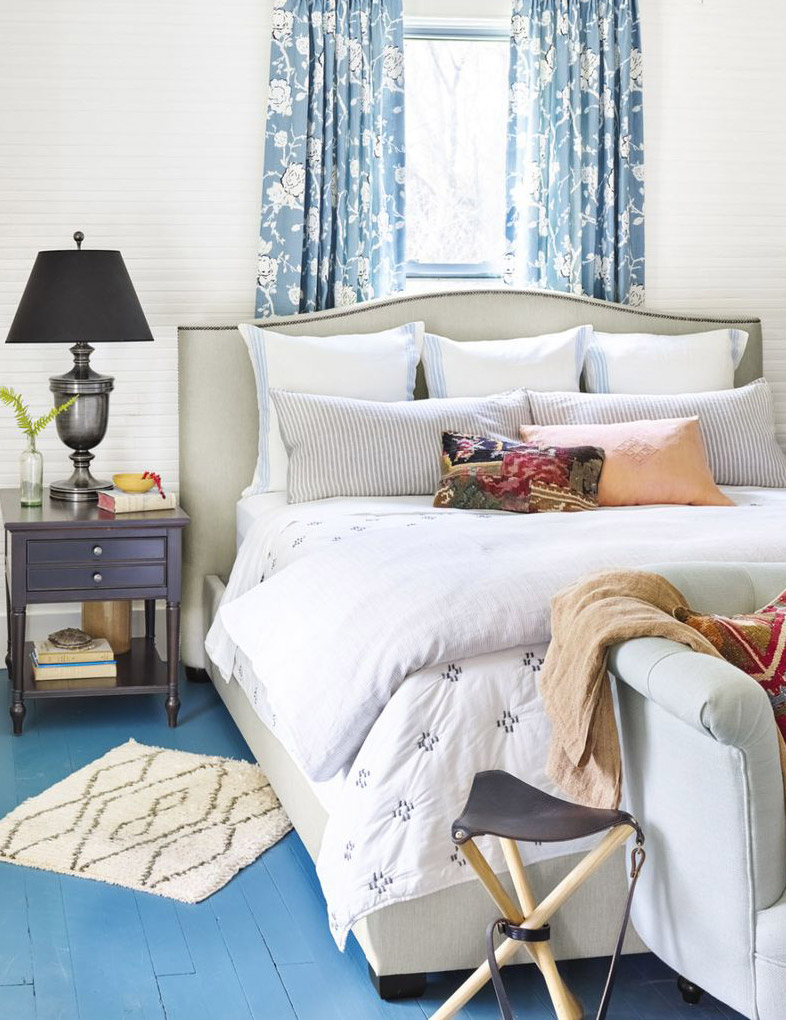 I've been lucky enough to have original floors already in place, but these are my go-tos when I need to add or replace.
For Reclaimed Wood:­
Karmal Skillington (karmalskillington.com) in Franklin, TN, has rustic flooring milled from material salvaged from 100 year old barns and buildings in up to 10-inch widths. Olde Wood, Ltd (oldewoodltd.com), also has beautiful wide-plank and reclaimed options.
For New Flooring:
Buy Floors Direct has the look without the price. Cambridge Estates's engineered hard­wood is stunning for under $5 per sq. ft. (buyfloorsdirect.com). (Go new if you don't want to worry about splinters on little bare feet.)
For Painted Floors:
I worship a painted floor, especially in a kitchen or living room. I always ask for a high-traffic, kid-proof finish (like a latex enamel formulated for floors, porches, and decks). For a nice neutral, I love Repose Gray from Sherwin-Williams. For a statement, I used their Santorini Blue in our farm house (above) and love it!
On Stain:
For a look that is warm and seamless throughout, I suggest a mid­range tobacco tone, such as Provincial (minwax.com) or a light oak.
Lesson 4: Wallpaper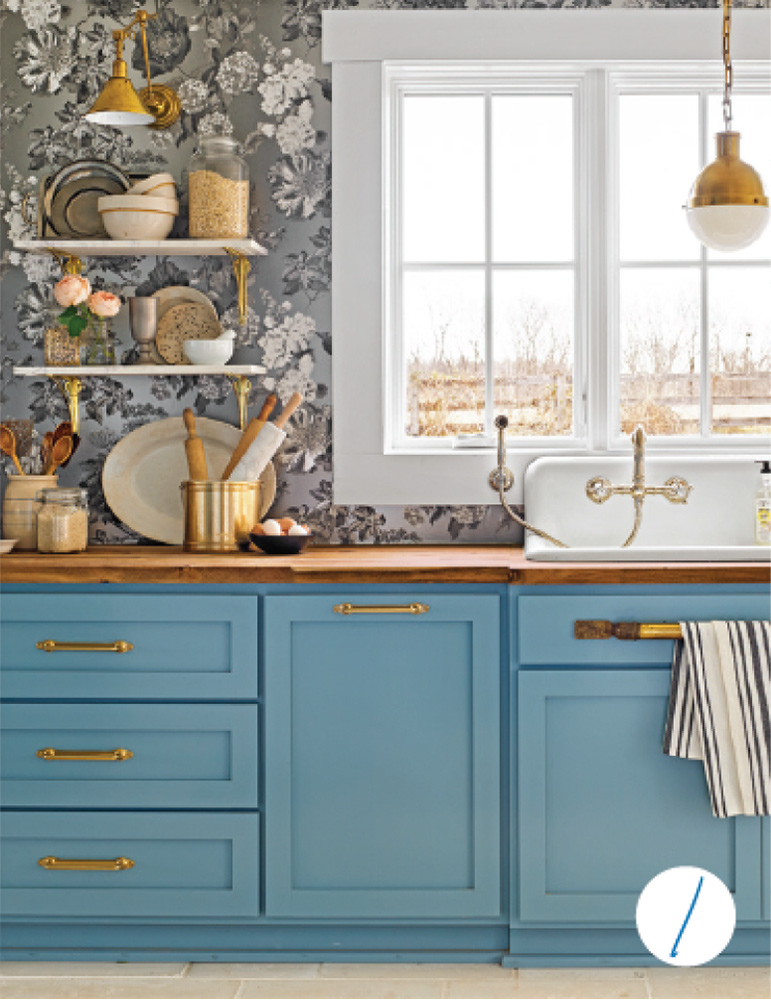 "
I am such a wallpaper fanatic. I think it goes everywhere—­bathrooms, kitchens (yes, kitchens!), ceilings, closets… Every few rooms, I make a bold wallpaper statement and find that when I do, fewer accessories are required.
(1) I love doing wallpaper in a kitchen instead of subway tile, especially an unexpected black-and-white floral. (For similar, try "Heritage Rose" by York Wallcoverings or "Smoky Rose" by House of Hackney).
(2) I frequently cover­ the ceilings in kids' rooms. This paper ("Nuvolette" by Fornasetti) is my crazy splurge, but it will never go out of style. I also love a colorful stripe in a kids room.
(3) You can do a great single accent wall behind a bed (here, "Seraphina Delft" by Designers Guild). I love that it's feminine but the blues and scale help keep it from feeling fussy.
(4) A blue­ floral ("Pedigree" in Blue on Cream by Thibaut) in an entry playfully juxtaposes the "Danger" sign, which serves as a tongue-in-cheek warning that three young kids may be running around.
(5) In a breakfast nook, a black wallcovering ("Lily of the Valley" by Cole & Son; discontinued) adds some edge and pairs with a painting by my maternal grandfa­ther.
(6) I use this stripe ("Closet Stripe" by Farrow & Ball) in so many rooms and in so many colorways!
(7) In the bathroom; a yellow toile ("Chateau-du Loir" by Thibaut) adds a graphic contrast against the black sink.
Home Economics
A few more of Holly's budgeting tricks of the trade:
INSTEAD OF: a pricey light fixture
Try: a ceiling fan
I'm not typically a ceiling-fan fan (forgive me!), but you've got to have them in houses where heat is an issue. In matte black, the Hunter Sea Wind fan looks chic. $180; amazon.com
INSTEAD OF: a $200/roll wallcovering
TRY: a fancy-looking alternative
Brewster's "Siri Rose" is inspired by an 1890s Swedish wallpaper and it looks super expensive. I've used it in bathrooms and guest bedrooms. $53/roll; wallpaperstogo.com
INSTEAD OF: custom shelving
TRY: mix-and-match prefab
I've paired the marble shelves from World Market $40; (worldmarket.com) with brass brackets from Rejuvenation (rejuvenation.com).
ALSO: Add a 20% cushion!
I can't tell you the financial nightmares I've been through by underestimating my overall spending, then discovering something wrong in the walls, or that the shipping costs for flooring are insane. My mother (my accountant) deserves a lifetime in paradise after the stress I've caused her.
Lesson 5: Lighting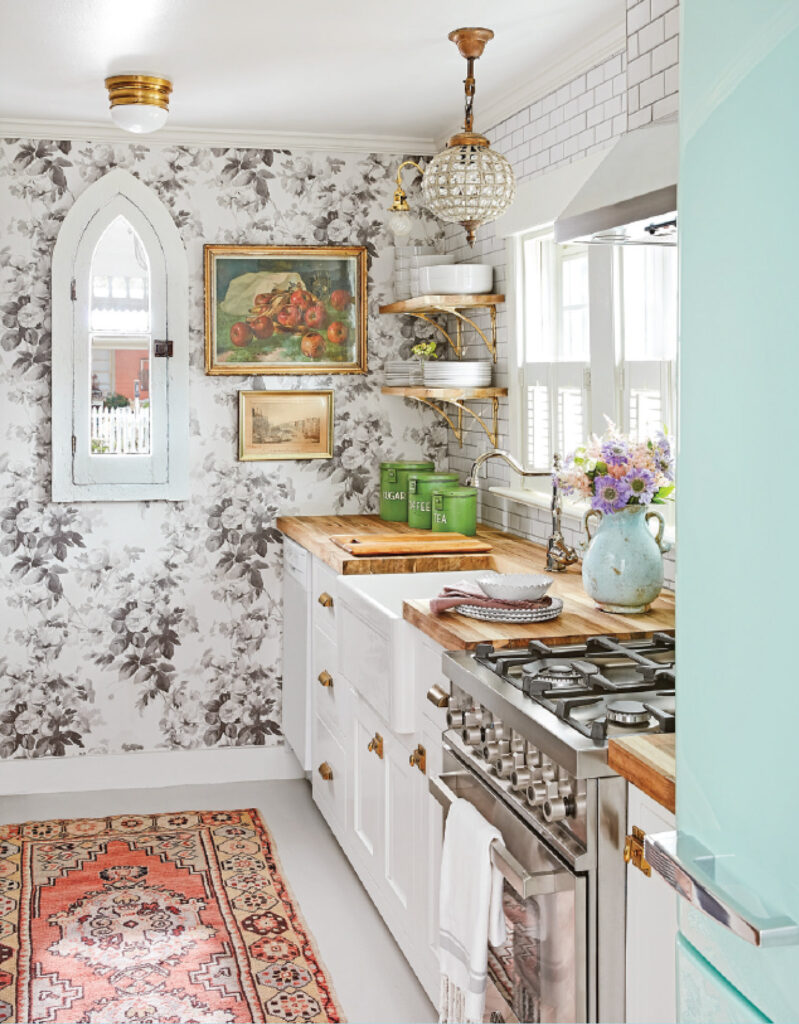 "
I love the mix of a new light in an old space or a rusty chandelier in a new space. Both pairings provide a balance of something that tells a story (the walls, or the antique chandelier) with something shiny and new. And don't forget the dimmer!
Dimmers are the most essential thing you can add. With soft lighting, my stress is lower, food tastes better, and even folding the laundry is easier.
FOR LANTERNS:
The "Hadley" four-light pendant in-antique brass (ballarddesigns.com) is my go-to for the foyer or kitchen. Shades of Light (shadesoflight.com) also has great price points. If the budget is bigger, the "Darlana" lantern in gilded iron (circalighting.com) brings sophistication.
FOR SCONCES:
I like the modern "Polaris" in brass (arteriorshome.com) or the affordable "brass wall sconces" at Lowe's (lowes.com).
FOR CHANDELIERS:
There is nothing better than an antique crystal chandelier over a bed or a bathtub, although the electrical codes department does not like the latter.
FOR FLUSH MOUNTS:
Rejuvenation (rejuvenation.com) is amazing for classic fixture reproductions. I use their brass flush mounts constantly.
Lesson 6: Hardware and Fixtures
As far as cabinets go, I adore bin pulls because they remind me of Grandma's house yet are incredibly chic. And I love a bridge or wall faucet. Waterstone's brass "Gantry" pulldown is on my dream list, but it's the price of a used car.
GO BRASS WHEN:
Whenever! I love unlacquered brass because it is historic. It brings back-the elegance of Victorian design yet it works anywhere. Unlacquered brass ages and changes beautifully because it's a living finish. If that patina is not a look you love, go with polished or aged brass, which looks great, too.
TRY POLISHED NICKEL WHEN:
You're not as into brass. I also-see-lots of polished nickel when touring old estates and old homes.
USE CHROME WHEN:
You're doing kids' baths to save money so you can splurge on brass or polished nickel in a kitchen or other bath.
Lesson 7: Tile and Countertops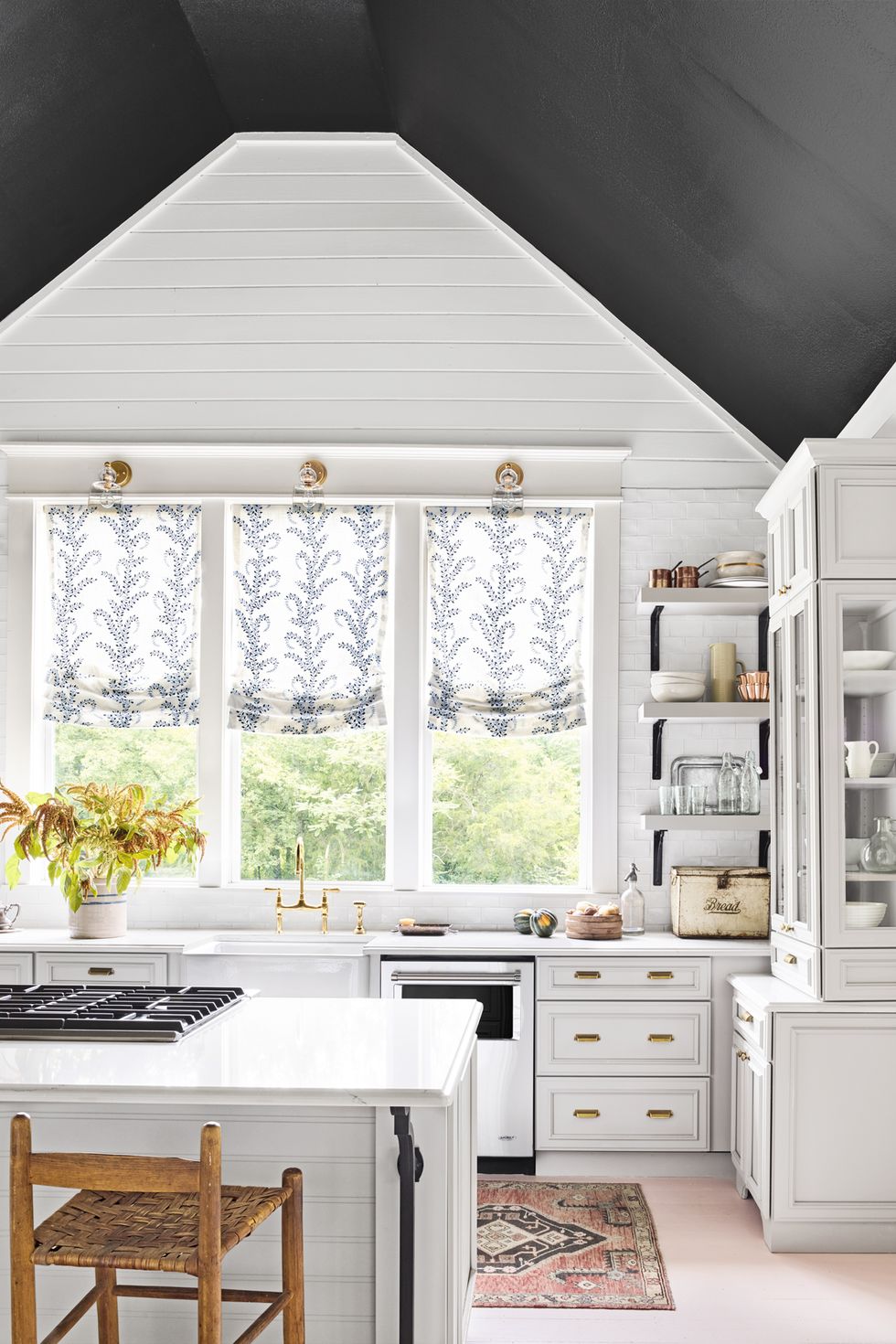 I love color, but when you want a safe decision (read: permanent surfaces!), black and white will never fail. It's a classic canvas where everything works, from a modern to an "antiques everywhere" vibe.
ON WALL TILE:
I love classic white subway tile for every­thing (shower walls, kitchen backsplashes, laundry rooms). For more texture, "Lancaster" tile (tilebar.com) has an incredible handmade look.
ON FLOOR TILE:
I like to write words with black penny (or two-inch hex) tiles surrounded by white tile (I did "WASH" in a cottage in Leiper's Fork, TN). For more of a statement, few things are as timeless as a black and white marble floor. "Cluny" (granadatile.com) also makes tor a graphic floor (above left).
ON COUNTERTOPS:
I will always love marble in a historic renovation or a really high end classic Georgian-style home, but Cambria (cambriausa.com) offers the greatest quartz countertop material I've ever used—truly! I've put the marble-like "Ella" in multiple projects. Butcher block is also a really economical option (lumber/iquidators.com).
Study Break
All that hammerin' and paintin' calls for some escapism, in the form of snacks, songs, or singing cartoon mice.
Mid-Reno Snack Fix:
White Cheddar Cheez-lts and a Mexican pizza from Taco Bell keep me going when out in the country. If I have time to plan, then ginger-berry kombucha and avocado toast give me energy.
Reno Tunes:
My two go-to soundtracks are Golden Hour by Kacey Musgraves and Southeastern by Jason Isbell. [In addition to being a serial house restorer, Holly also happens to be a talented singer-songwriter.]
iPad App:
Mickey Mouse Clubhouse on Disney Junior. It's a necessity when there is no television and your three year old is so over you talking to the contractor.
Slightly Dangerous Distractions:
Oldhouses.com and Craigslist. People with old houses tend to have strong connections to them, so they try to target like-minded souls (not tear-down buyers!). I look for the houses with the most interesting histories in their descriptions.
Lesson 8: Perfect Paints
In historic homes with 10-foot ceilings, I love to paint the room—walls, trim, and ceiling— one-color, typically in a glossy finish. Besides, the historic paints were glossy. And while I've done mantels in almost all of these colors, dark charcoal in high gloss is a no fail!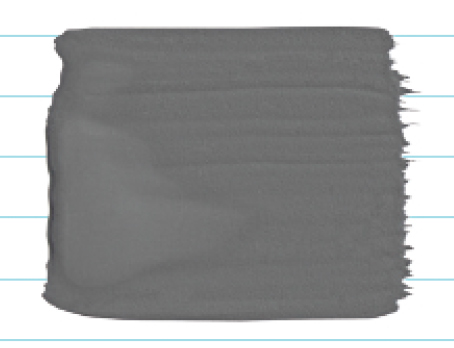 DOWN PIPE
FARROW & BALL
A fantastic dark lead gray with blue undertones. It's incredibly warm and perfect with simple white bedding or even pillows with hints of red. I love it for a bedroom or hallway with antique pictures in old brass frames.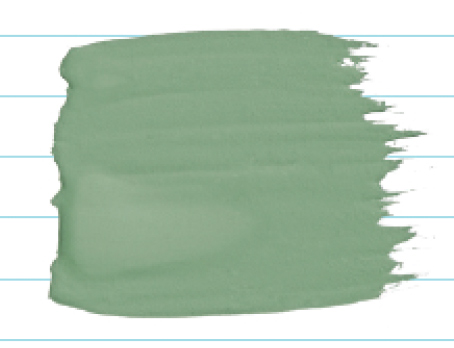 AGATE GREEN
SHERWIN-WILLIAMS
I just discovered this green on my last project. It's a throwback to "grandma green" but in a chic way. I used it in a laundry room with a brass faucet and a black-and-white tile floor. It's also fabulous on cabinetry with brass hardware.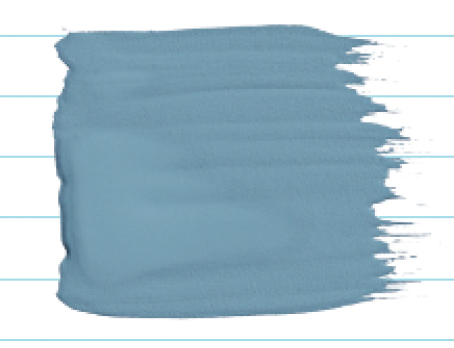 VAN COURTLAND BLUE
BENJAMIN MOORE
I have used this calming and warm color in two guest rooms. It's a very strong blue but doesn't overtake the space. It's also incredible in high-gloss on kitchen cabinets.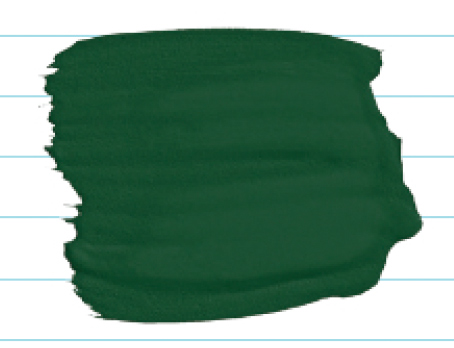 JASPER
SHERWIN-WILLIAMS
A super-dark-green that almost reads black in lower light, this color sets a great mood and looks fabulous with everything from a perfect patinaed chest of drawers to more industrial furniture.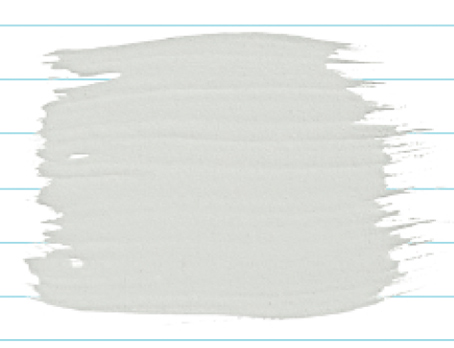 FLEUR DE SEL
SHERWIN-WILLIAMS
With a hint of gray, this paint color is the ideal alternative to a house being painted all white. I slather ceilings, trim, and walls with it.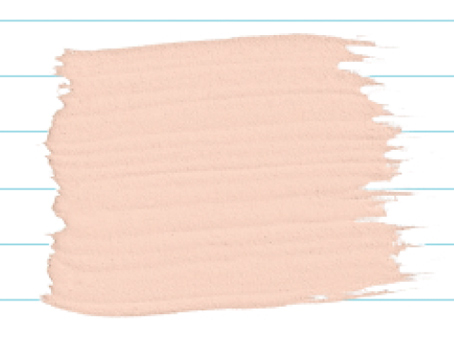 PINK GROUND
FARROW & BALL
My go-to the most stunning blush you've ever seen! I found it on a paint deck years ago and-first tried it in my closet. I just did a kitchen in it, and it's stunning. It's not a "little girl" pink and works great with leather or masculine tones.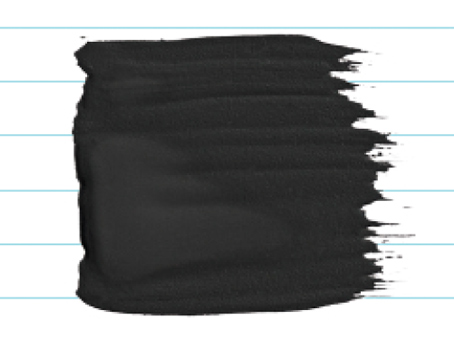 TRICORN BLACK
SHERWIN-WILLIAMS
This is the only black I use, and it's perfect. It's gorgeous in high gloss for a mantel, black trim, or doors. I also painted a kitchen in this color and loved cooking in the space afterward.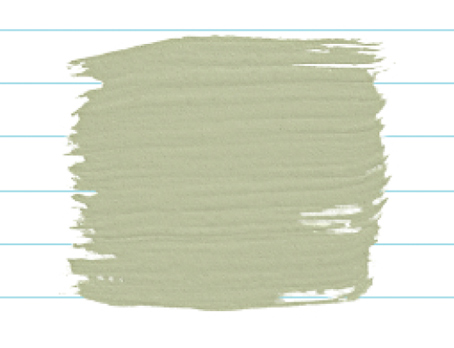 VERT DE TERRE
FARROW & BALL
This lighter, more neutral shade is a killer backdrop for living room walls, especially if you have large windows looking out at trees.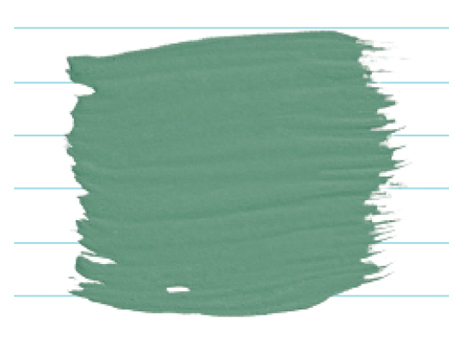 PARSLEY SNIPS
BENJAMIN MOORE
This is a super-bold green that's fabulous for a vaulted ceiling or an accent wall filled with pictures in flea market. frames of all finishes.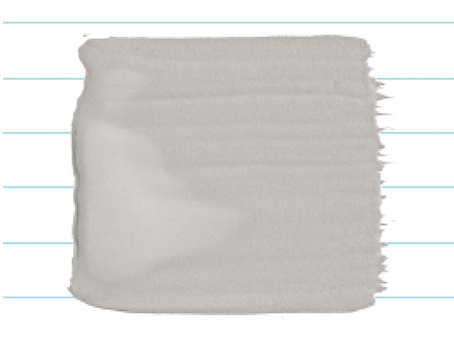 LIGHT FRENCH GRAY
SHERWIN-WILLIAMS
It's unbelievably timeless on a ceiling, whether low or vaulted with shiplap. You can truly go in any decor direction from here. I also love to pair it with a neutral floral-print wallpaper.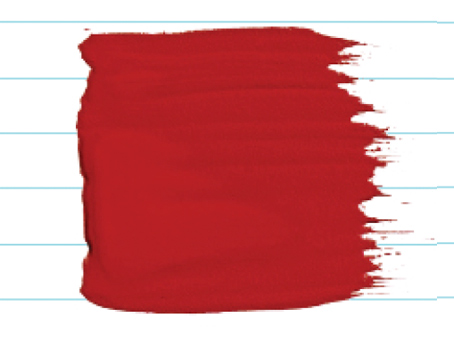 HERITAGE RED
BENJAMIN MOORE
This classic red wins in every application. It's lovely on dining room wainscoting or as a fireplace mantel with white walls. I also painted this in high gloss on a guest room ceiling with a black candelabra chandelier.
FOR THE LOVE OF HIGH GLOSS
I've always been a glossy girl. I love super high-gloss finishes for old homes and high ceilings and semi­gloss for newer homes with low or high ceilings. The traditional way is eggshell or matte walls with gloss trim, but I'm also a fan of making it all the same.