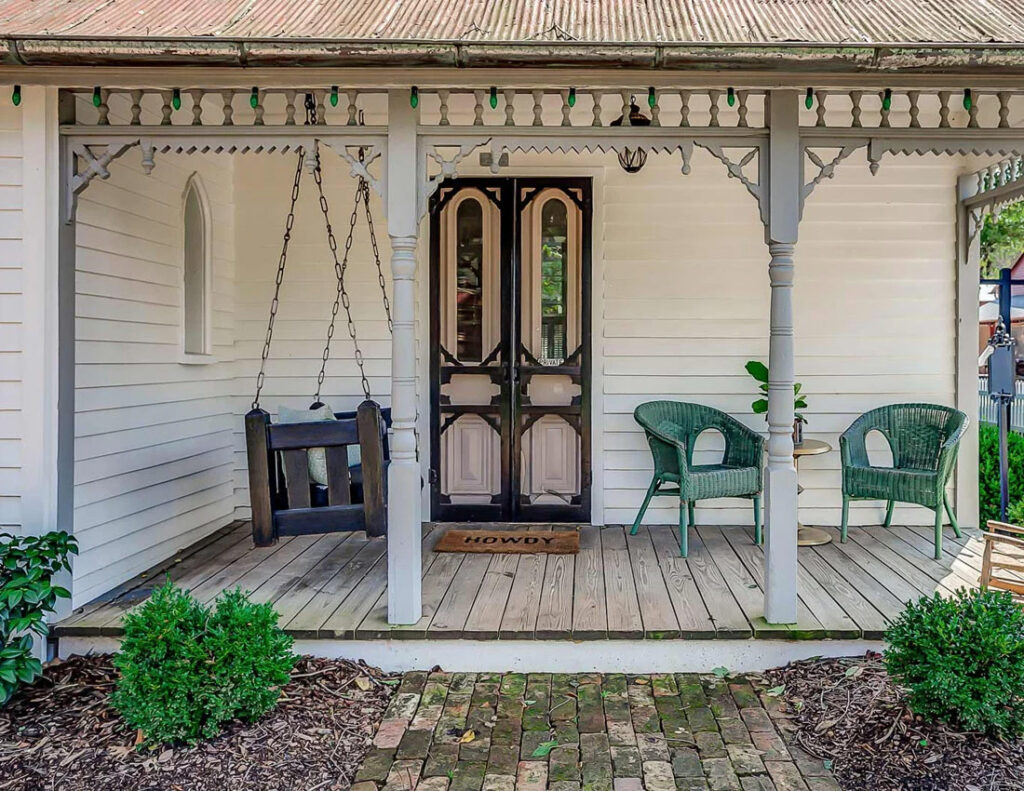 Garden & Gun Inside Look:
Holly Williams's Rural Tennessee Rentals
First the Nashville musician took on retail. Now she's expanding to small-town Southern hospitality with White's Mercantile Room and Board
By ELIZABETH HUTCHISON HICKLIN
At twenty-two—before the record deals or the two successful Nashville retail enterprises (H. Audrey Boutique and White's Mercantile)—Holly Williams fell in love with a house. A white-washed, postage stamp-sized Victorian cottage in tiny Leiper's Fork, Tennessee, where she lived while working at the sandwich shop next door. A decade (and several houses) later, she teamed up with a friend to purchase the circa-1892 home, now part White's Mercantile Room and Board, a hospitality company she launched last fall that specializes in historic small town Southern escapes.
Williams, who has flipped eight houses in the last three years, set about a floor-to-ceiling renovation to revive the aging structure while preserving the two-bedroom homestead's period details. She dug through the inventory at dozens of antique malls—backroad shops, Nashville fleas, the behemoths like Scott Antique Market in Atlanta, even eBay—to create a rural retreat where history and luxury meet. "I try to honor the house with the furniture I choose," Williams says. "But I also believe in good linens, a great soaking tub, and a gourmet kitchen." Sweeney Cottage has all three. And it can be yours—at least for the night. Two White's Room and Board properties, including Sweeney Cottage, are now available for rent in Leiper's Fork and Cornersville, with one more in Tennessee and another in Kentucky slated to start hosting guests this spring.
Williams credits her maternal grandparents for her passion for old homes and the lifestyle they represent. "My grandparents weren't wealthy. They were cotton farmers in Mere Rouge, Louisiana," she says. "But their home was warm and welcoming. It's where we gathered for any major holiday or family event."
Like many people who love houses, real estate listings make for some of Williams's favorite reading materials, and she discovered the Cornersville property via a little late-night Craigslist browsing. The two-story Fox Country Farmhouse, built in 1862, sits on eight acres and comfortably sleeps ten. Of every house she's worked on, it reminds her the most of her grandparents' Louisiana spread. "Cornersville is in the middle of nowhere," Williams says. "There's not much to do, but that's the point. It's all about connecting with family and friends and making memories." There's a screened porch with rocking chairs that calls out for a good book, a fire pit for roasting marshmallows, woods to explore, and cupboards stocked with board games. The large open kitchen is designed with family meals in mind, but Williams can also arrange for a chef to make the hour-long drive south from Nashville and do the work for you. "Your trip can be customized in any way you'd like," she says, including an outdoor dinner party under the stars.