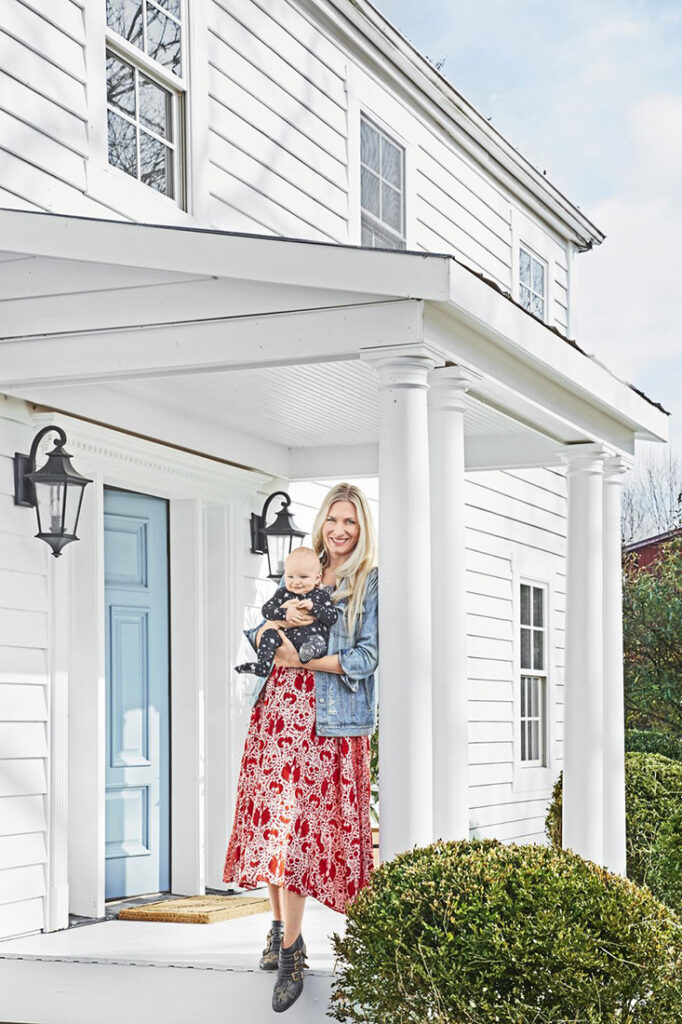 Country Living Makeover:
How Holly Williams Turned a Run-Down Home Into
The Farmhouse of Your Dreams
See how singer-songwriter Holly Williams turned an 1820s Kentucky charmer into a glorified country home.
Holly Williams was on a mission to save tired old Tennessee farmhouses one click at a time. In between juggling three children (Stella June, Lillie Mae, and Arlo); performing and writing songs; overseeing three, soon to be four, locations of her beloved housewares shop, White's Mercantile; as well as curating clothing at her Nashville boutique, H. Audrey, the Music City multitasker has spent the last four years pointing, clicking, buying, and then rehabbing Craigslist finds all over the Volunteer State. "I feel a huge sense of urgency," says Holly. "I'm worried that if I don't buy these properties and help them, they're going to get torn down."
But last year Holly's restoration inclinations crept beyond state lines, and for that she lays all the blame on husband Chris Coleman. "One night, he was on the computer searching oldhouses.com, and all of a sudden he started screaming, 'Red Alert! Red Alert!' " Holly says. Turns out, he'd found a listing for an old 1820s farmhouse located on 42 wooded acres in Franklin, Kentucky, a small town just an hour north of Nashville. "I was on the phone with the owners within the hour," says Holly.
Before: Exterior
The very next day, Holly drove up from Nashville. While the land was undeniably gorgeous and the price was right ("a real steal," says Holly), the house itself wasn't exactly a no-brainer. "I'm very good about wearing my 'vision goggles,' " she says, "but the exterior was falling apart, and there were all these vinyl windows and doors. It was a little dark and depressing. The owners had been there for so long and had so many collections­—the first showing was a bit of a challenge." Still, Holly made an offer. "I could see its potential," she says.
After: Exterior
After 12 months of construction, the house, now one of Holly's rental properties, is ready for visitors (go to whitesroomandboard.com for availability and rates). "It's off the beaten path. And I promise, you can't compete with the views from the screened-in porch. Around sunset, it's majestic," she says. Of course, rest and relaxation isn't for everyone. Holly, for example, is already on the hunt for her next rescue. "I can't help it. I love a project. And I have a huge passion for restoring these old homes."
Entryway
After clearing out clutter, Holly updated the entry with Pedigree in Navy on Cream by Thibaut wallpaper. The "Danger" sign, found at a Tennessee antiques market, is a tongue-in-cheek warning to house-guests. "With three young kids, you never quite know what sort of chaos you'll encounter," she says.
Dining Room
A stack of vintage 7UP soda crates from cratearcade.etsy.com makes for the perfect dining bench. Holly attached them all with sheets of plywood on the top and bottom and screwed them together with T-nuts. She finished with a set of bun feet from The Home Depot and a burlap cushion.
Before: Living Room
Before, a black fireplace did nothing to combat the drab.
After: Living Room
Now, a fresh coat of white paint allows decorative elements to shine, including a striped sofa from Imagine Home, a vintage trunk from Bleu 32, and banners salvaged from a church.
Flooring
Holly, who typically likes to renovate room by room as opposed to all at once to manage costs, notes there are always surprises—new windows and HVAC can cost a pretty penny, as can new floors. "The downstairs floors were so beautiful," she says. "But there was nothing underneath them—it was straight-up dirt!" So they removed them, rebuilt the foundation, and re-laid the original floors. Says Holly, "I could have saved money by adding new floors, but I find there are times when you don't want to disrespect the house."
Desk
Gold frames feature art by Holly's husband (see more at ChrisColemanArt.com!).
Kitchen
Holly paired affordable marble shelves from World Market with brass brackets from Rejuvenation and filled them with a mix of pewter and ironstone.
Bedroom
Holly enveloped the master in the same shade of blue that she used on the front door. A collection of pewter hangs above the antique curved-footboard bed. Floral bedding from Caitlin Wilson adds a spring touch.
Before: Bathroom
Because the circa-1800s staircase was far too narrow, the brand-new porcelain soaking tub had to be brought in through the bathroom window!
After: Bathroom
Holly outfitted the upstairs bathroom in gold and white Chateau du Loir wallpaper by Thibaut and added a gold mirror from Anthropologie and sconces from Cedar and Moss.
Before: Porch
When the decrepit siding came down, Holly was delighted to find that it was hiding logs. But her happiness was short-lived. While she was dying to restore it to its old log cabin glory, the $300,000 price tag was way too steep. She opted to cover it up with siding and instead added a new porch. "It makes it look like it's been here forever," says Holly.
After: Porch
Now the swing, handcrafted by Nashville artist Scott Ellis, is the perfect spot to watch the sun set over the property's 42 wooded acres. Daughters Lillie Mae and Stella June have made it their spot for heated games of tic-tac-toe.